2019 World Sight Day Challenge: Enter to Become a CooperVision Ambassador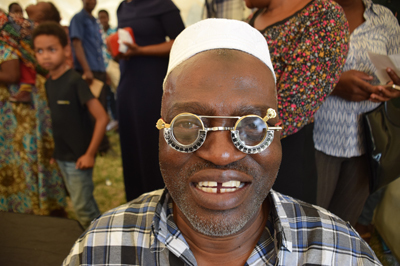 As part of our 2019 World Sight Day Challenge, we're sending a CooperVision employee to see first-hand how the funds we raise help change lives. It's easy to be considered: review the guidelines and complete the brief self-nomination form below.
From all qualified nominations received, one employee will be selected at random as our next CooperVision Ambassador. The selection is expected to occur by December 2019, with the site visit taking place in early to mid-2020. Please note, your supervisor, department and site leader, as well as your Human Resources lead, must agree to your participation if selected as well as a mutually convenient date range for the visit.
This opportunity is so much more than just a trip. It's a chance for one enthusiastic, energetic and passionate person to participate in providing treatment, interacting with those giving and receiving assistance, and telling the story of Optometry Giving Sight through a unique perspective.
Taking part in a program supported by Optometry Giving Sight will provide you with an experience unlike any other, and will remain with you for a lifetime. What should you expect if chosen?
Location:
Programs funded by the initiative occur worldwide, most often in developing nations where access to vision services is limited by geography, economics or infrastructure. In recent years, CooperVision funds have directly supported outreach in Tanzania, India, El Salvador, Nicaragua, Vietnam and Uganda. Your site assignment may be based on where you live to make travel more convenient.
Length:
Most site visits will last five to seven days, including travel. Your preparation will begin beforehand with briefings from program managers, ensuring you are ready to assist once on the ground. The date will be selected with your input, based on program schedules, your calendar, and the approval of your supervisor, department and site leader, as well as your Human Resources representative.
Paid Time Away:
You'll be paid as normal. Specifics will be arranged with your manager and Human Resources depending on your typical schedule and the length of the visit. This is considered a special assignment for CooperVision, and will be viewed with pride and admiration by your peers.
Your Role at the Program Site:
Depending on the program site selected, your role while visiting may differ. Regardless, our intention is to ensure that you are more than just an observer, but an active participant in helping provide the gift and power of vision to adults and children. You may be called upon to assist doctors and clinicians in screening patients, to aid in vision testing, to inventory and transport supplies on site, and more.
Your Role at the Program Site (continued):
The other aspect of your in-country role will be to capture the stories of those providing and receiving assistance, so that these can be shared with your fellow CooperVision employees after your return. Likewise, you'll document your own insights, thoughts and experiences during the journey. We will outfit you with a GoPro video/still camera and coach you on conducting interviews and capturing photos/footage. Ultimately, we want you to illustrate how the funds we raise are put to work, impacting individuals and entire communities.
After Your Visit:
After returning home, your role as a CooperVision ambassador is far from over! We will work with you to transform the photos, videos and stories collected into content for ongoing outreach (e.g. among your peers, our industry partners, and customers). You may be asked to present in person, via video conference or phone with teams worldwide about your experience, as well as with external audiences (e.g., eye care professionals) in some instances.
As with any program of this nature, final roles and responsibilities may change to accommodate the circumstances.
Questions should be directed to Matt Berner at mberner@cooperco.com.
Tell Us Why You Should be Selected as our next CooperVision Ambassador!
Enter by October 31, 2019 to be eligible.