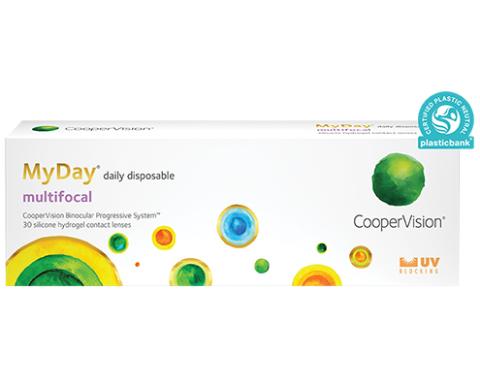 MyDay® multifocal

MADE FOR MORE. These high-performing lenses suit wearers who want extraordinary comfort, health and convenience for long and demanding days.
Unsurpassed comfort and vision at all distances compared to other leading one-day multifocal lenses 1, 2
High oxygen transmissibility to help keep eyes clear, white, and healthy
Same material technology as Biofinity® multifocal §3
UV blocking *
Vision correction for 99.8% of presbyopic¶ prescriptions (up to 0.75DC). 4
Unsure which products are best for you?
Take this four question quiz to discover which of our products may best fit your needs.
Find Your Lens
Plastic neutrality is established by purchasing credits from  Plastic Bank. A credit represents the collection and conversion  of one kilogram of plastic that may reach or be destined for  waterways. CooperVision purchases credits equal to the  weight of plastic in our-one day contact lens orders (effective  from 1st January 2022). One-day contact lens plastic is  determined by the weight of plastic in the blister, the lens and  the secondary package (outer carton), including laminates,  adhesives, and auxiliary inputs (e.g. ink).
§ Biofinity® and MyDay® family contact lenses share Aquaform material technologies. Sphere products share Aberration Neutralising System. Toric products share Optimised Toric Lens Geometry. Multifocal optical technologies differ. Biofinity® family is Frequent Replacement and MyDay® family is 1 Day. It is for the ECPto use their professional judgement to determine fitting characteristics on eye with individual patients. *UV-blocking contact lenses help provide protection against transmission of harmful UV radiation to eye but are not substitutes for protective UV-absorbing eyewear, such as UV absorbing goggles or sunglasses, as they do not completely cover the eye or surrounding area. Continue to use UV-absorbing eyewear as directed by your eye care professional. ¶ With myopia, hyperopia or emmetropia.
1. CVI data on file 2020. Prospective, double-masked, bilateral, 1-week dispensing study with MyDay® daily disposable multifocal; n=104 habitual MFCL wearers. 2. CVI data on file 2021. Prospective, subject-masked, randomized, bilateral, two-week cross-over dispensing study at 5 US sites with MyDay® multifocal and DAILIES TOTAL1® Multifocal; n=58 habitual multifocal contact lens wearers. 3. CVI data on file 2023. 4. CVI data on file, 2021; Rx coverage database n=72,937; 42 to 70 years.