"Inclusion and diversity are essential to CooperVision's global success. Recognising employees' personal and cultural experiences enhances our innovation and evolution as a company and a community of co-workers. We want to be certain that everybody feels appreciated and supported in reaching their potential."
Daniel McBride, President of CooperVision
"Brighter Together" - Big on belonging, proud of our different perspectives.
We understand that different perspectives bring fresh and unique insights to the mix. And team spirit spurs us on. So be yourself, whoever you are, and let's achieve amazing things together.
Our "Leading with Inclusion" programmes include training by expert consultants, including Catalyst and Yale, drawing on the latest research about the complexities of leading diverse organisations. Hundreds of senior leaders worldwide also participate in sessions on building more inclusive workplaces, supporting diverse teams and serving customers, vendors and employees without unconscious bias.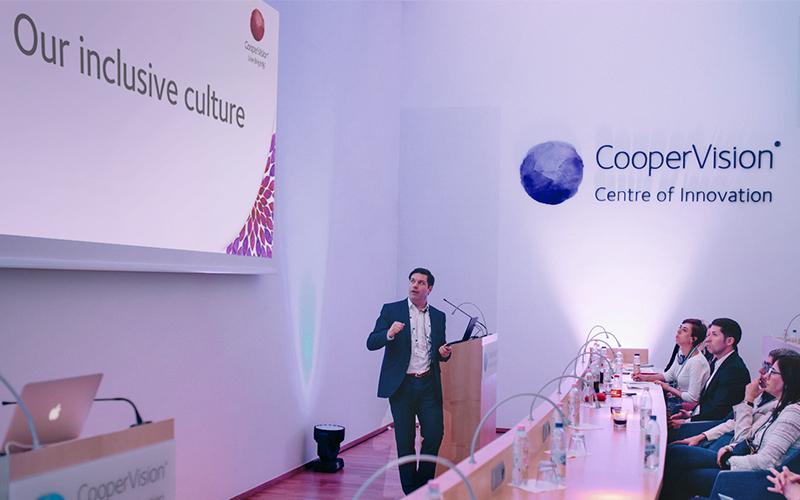 At individual facilities, a wide variety of activities celebrate and honour our diversity and culture of inclusiveness all year round.
To be amazing, we just need to be ourselves…
What we do every day here at Cooper is pretty amazing—we improve lives, one person at a time. Everybody's contribution counts, and that's why inclusion and diversity are so important. It isn't just the right thing to do; it's what makes our company the best it can be. And when you think about it, it makes sense, because you can see a whole lot more when you have different perspectives.
We're a group of colleagues here at Cooper called the Global Inclusion Council (GIC). Every one of us on the GIC is truly passionate about making our company a place where we all feel we belong. Nobody should feel like an 'outsider'. We want Cooper to be a safe and equitable environment for all, a place where all of us feel respected and valued.  A place where we can thrive. In short, a place we're proud to be a part of.
We're making this happen. Not just with words, but with actions. Since being appointed by our CEO, Al White, earlier in the year, the team members on the GIC have gotten to know each other, understand what Cooper is doing about I&D, and learn about best practices. It's our mission to ensure that as a company, we keep listening, learning and advancing our culture of inclusion and diversity. And to do this, we've set ourselves four goals:
To make it happen—we're taking an active role in helping to advance the company's inclusion and diversity initiatives and programs;

To share understanding—we're promoting increased communication and training throughout the organization to further embed inclusion and diversity into the fabric of our company;

To listen & learn from others—we're acting as ambassadors and change-agents attending external events, championing internal activity and sharing best practices across the organization;

To form communities of advocates and allies—we're partnering with our Human Resources colleagues to establish and develop Employee Resource Groups (ERGs)—open forums for employees who share common interests/concerns and who can help us shape future initiatives.
The Cooper family is a great place to be a part of. We're a large, global, and successful healthcare company, and we're getting bigger and stronger. Inclusion and diversity are key part of our future success and we recognize that. So be yourself, whoever you are, and let's achieve amazing things together.