In these times of social distancing and self-isolation you may be worried about how well your child can see. As a first step there are some vision checks you could do at home.
Check if your child can see the text on the TV from a distance; perhaps match this with your vision if you know you can see clearly in the distance. If your child has to move closer to the TV to read the text this may indicate that they may be short-sighted. A better option would be to use a vision chart. The College of Optometrists have produced a vision chart you can print at home, they also have a short video on how to test your vision at home.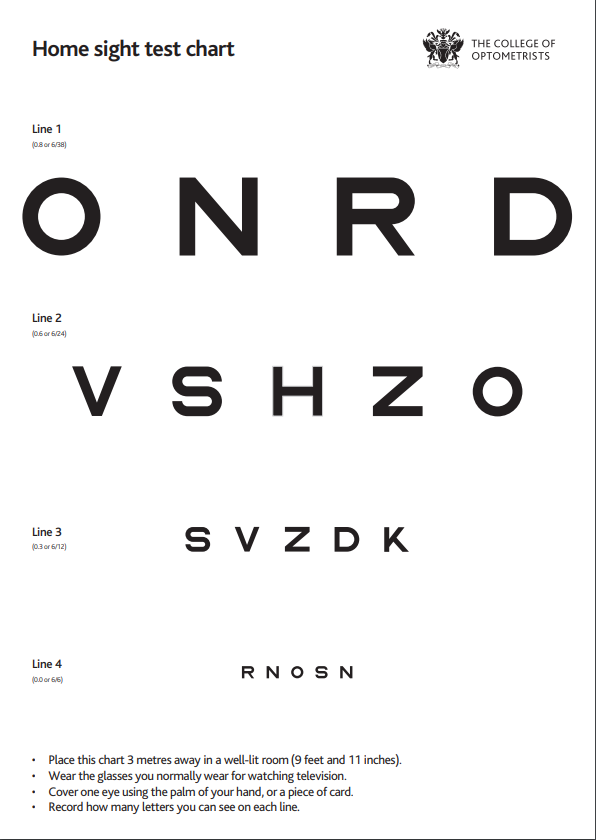 If you think your child is short-sighted there is a good Vision Simulator by CooperVision that gives you a reference for the level of short-sightedness of your child alongside what your child might be experiencing.
It may be that your child is struggling to read words on a page or screen. Check if the problem is with both eyes together, then cover up each eye in turn and see if this problem persists. This information would assist an optometrist via a remote consultation to better advise you.
These home vision checks are not a replacement for an eye test but may give you some reassurance of the level of your child's vision. However, in all cases the more information you can provide to your optometrist via a remote consultation the better informed the optometrist will be and they can then decide on an appropriate management plan.