Southampton, United Kingdom, 23rd November 2017 — Global contact lens manufacturer CooperVision has today launched the sixth cycle of the European FORCE Student of the Year competition.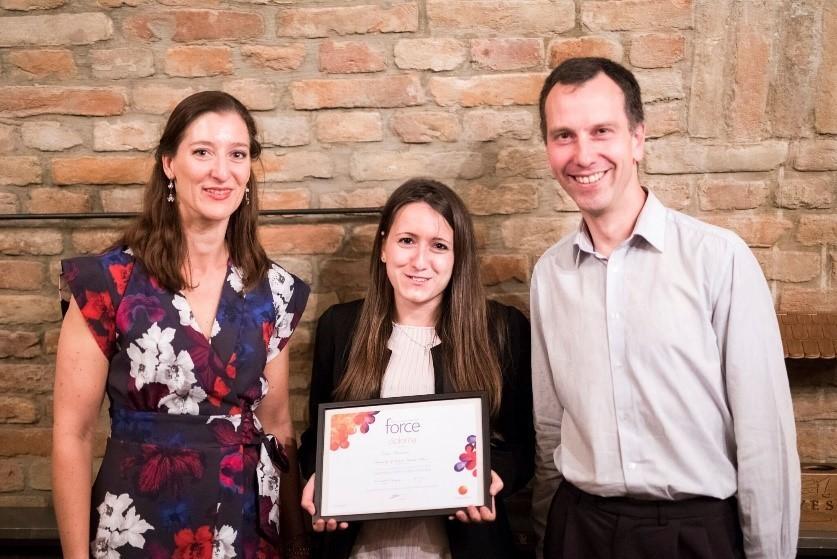 The Future Ocular Research Creativity Event (FORCE) is an annual competition in the field of the anterior eye and contact lenses, pitching the very best students from colleges and universities all over Europe against each other to become the CooperVision FORCE Student of the Year.
FORCE aims to inspire students to strive for excellence in their studies, and to encourage them to develop their professional knowledge base and contacts to benefit their future careers.
Students may conduct a clinical project which may also be a summary of their third-year academic project, clinical review paper or case report – on a contact lens or anterior eye related subject.  Those selected to represent their college or university will meet at the national UK final at the CooperVision European headquarters in Fareham in March 2018.  The students at this UK final competition will have the chance to compete against other UK universities with the winner having the opportunity to compete in the European FORCE final against other countries. The 2018 final will be held at the CooperVision Centre of Innovation in Budapest, Hungary on 11th and 12th May 2018.
The judging panel led by chair Professor James Wolffsohn of Aston University, Birmingham will award the title of CooperVision European FORCE Student of the Year 2018 to the overall winner, who will receive a full delegate package, including travel and accommodation, to attend an international contact lens meeting.
"Evidence-based practice is the core of the optometric profession and FORCE is unique in giving an opportunity to students from every contact lens teaching university to further their career as key opinion leaders and profession shapers of the future" said Professor Wolffsohn.
"This is a life-changing opportunity for students to enhance their career and is great publicity for contact lens teaching universities. I would strongly encourage them all to take part and to give their students this great prospect."
Teams of students and educators from nine countries participated in the 2017 European FORCE final. Winners of FORCE Student of the Year 2017 were Alessandra Rossi and Sara Picarazzi from the University of Milano-Bicocca in Italy, Supervised by Silvia Tavazzi, this team had evaluated the absorption of eyeshadow in soft contact lenses.
Sara commented: "I got involved in my first research project thanks to my teacher at university. Winning the award shows the important work our university can do and gives us the chance to publish our project. FORCE opens a great opportunity for study. It's really important for young researchers starting out on their careers."
###
About CooperVision FORCE
Entries for the national CooperVision FORCE (Future Ocular Research Creativity Event) can be submitted from spring of each year. Students then have time to plan and submit their piece of work to their colleges and universities. Successful regional candidates go forward to the FORCE final. For more information, contact CooperVision professional services and visit www.coopervision-force.com.
About CooperVision
CooperVision, a unit of The Cooper Companies, Inc. (NYSE:COO), is one of the world's leading manufacturers of soft contact lenses. The Company produces a full array of monthly, two-week and daily disposable contact lenses, all featuring advanced materials and optics. CooperVision has a strong heritage of solving the toughest vision challenges such as astigmatism and presbyopia; and offers the most complete collection of spherical, toric and multifocal products available. Through a combination of innovative products and focused practitioner support, the company brings a refreshing perspective to the marketplace, creating real advantages for customers and wearers. For more information, visit www.coopervision.com.
About The Cooper Companies
The Cooper Companies, Inc. ("Cooper") is a global medical device company publicly traded on the NYSE (NYSE:COO). Cooper is dedicated to being A Quality of Life Company™ with a focus on delivering shareholder value. Cooper operates through two business units, CooperVision and CooperSurgical. CooperVision brings a refreshing perspective on vision care with a commitment to developing a wide range of high-quality products for contact lens wearers and providing focused practitioner support. CooperSurgical is committed to advancing the health of families with its diversified portfolio of products and services focusing on women's health, fertility and diagnostics. Headquartered in Pleasanton, CA, Cooper has more than 10,000 employees with products sold in over 100 countries. For more information, please visit www.coopercos.com.