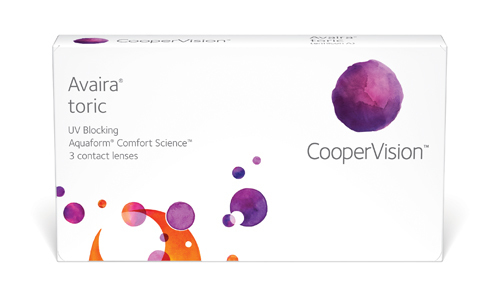 Southampton, United Kingdom, 4th July 2013 — In the midst of experiencing continued momentum for its Avaira toric contact lenses, global contact lens manufacturer, CooperVision, has launched additional parameters for the brand. This expansion will enable practitioners to offer the comfort, health and outstanding visual benefits of Avaira toric to even more of their astigmatic patients.
Available from today, the company has expanded Avaira toric lens parameters with new +0.25D to +6.00D sphere powers to correct for hyperopia. A 2011 study indicated that 15.7 percent of hyperopes were also astigmatic .
These new options join the existing parameter range, including sphere powers of plano to -6.00D in 0.25 steps; -6.50D to -10.00D in 0.50 steps; cylinder powers of -0.75, -1.25, and -1.75; and axes from 10 degrees to 180 degrees in 10 degree steps.
Approximately one-third of potential contact lens wearers require astigmatic correction. The newly expanded Avaira toric lens range now covers more than 90 percent of astigmatsi.
Commenting on the expansion, Rob Healey, UK & Ireland Marketing Manager at CooperVision said: "This latest parameter extension further strengthens CooperVision's position as experts in the toric contact lens market, as well as demonstrating our dedication to providing eye care practitioners with the parameters they need to fit the majority of their astigmatic patient base."
Offering outstanding stability to overcome symptoms, such as blurry vision, Avaira toric features a consistent horizontal thickness across the power range to improve lens stability and reduce rotation. A wide ballast band that completely encircles the optic zone helps minimise lid interaction for both orientation and comfort.
The lens features Aquaform® technology, which utilises longer siloxane chains and results in less silicone incorporated into the lens. Less silicone results in a lower modulus, creating a softer and more flexible lens. Avaira toric also benefits from an inbuilt UV blocker* to help protect patients' eyes against 75 per cent of UVA and 99 per cent of harmful UVB rays.
An improved lens fitting technique for Avaira toric has also been developed in collaboration between CooperVision's European and UK clinical teams, who have extensive experience both with patients and within the industry.
Eye-care practitioners can visit www.coopervision.co.uk/practitioner/contact-lens/avaira-toric for product details.
###
MEDIA CONTACT:
Fiona Healey, Five by Five UK
CONTACT DETAILS:
fiona.healey@fivebyfiveuk.com
+44 (0) 2380 828372
About CooperVision
CooperVision, a unit of The Cooper Companies, Inc. (NYSE: COO), is one of the world's leading manufacturers of soft contact lenses. The Company produces a full array of frequent replacement and daily disposable contact lenses, all featuring advanced materials and optics. CooperVision has a strong heritage of solving the toughest vision challenges; such as astigmatism and presbyopia; and offers the most complete collection of spherical, toric and multifocal products available. Through a combination of innovative products and focused practitioner support, the company brings a refreshing perspective to the marketplace, thereby creating real advantages for customers and wearers. For more information, visit www.coopervision.co.uk.
Contact lenses are medical devices and can only be prescribed and dispensed by a licensed eye care professional.
*Warning: UV-blocking contact lenses are not substitutes for protective UV-absorbing eyewear, such as UV-absorbing goggles or sunglasses, as they do not completely cover the eye and surrounding area. Patients should continue to use UV-absorbing eyewear as directed.
i. Young G, Sulley A, Hunt C. Prevalence of Astigmatism in Relation to Soft Contact Lens Fitting. Eye & Contact Lens 2011;37: 20–25.