CooperVision and Optometry Giving Sight's 'One Bright Vision' is changing the life of children like Hashim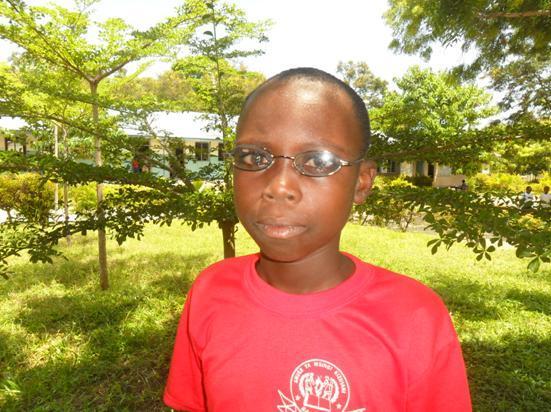 Hashim's life has changed. The thirteen-year-old had battled with low vision and cataracts for many years, but was never able to visit a clinic because he had no-one to take him.
"I knew there was something wrong with my sight because tears would roll down my face when I tried to read or write – which I know is not normal," he explained. "But my family had no idea that it was serious and also couldn't afford to take me to the clinic," he said.
It just so happened that Hashim's school was one participating in the Child Eye Health project pilot phase that took place in the Bagamoyo District in Dar es Salaam, Tanzania. The project is an initiative of the Brien Holden Vision Institute and is being funded by CooperVision and Optometry Giving Sight as part of CooperVision's One Bright Vision program.
Three teachers from five schools in the area were selected to take part in the pilot phase project, and attended primary eye health care training. This training was offered to increase awareness about eye health and also to teach the teachers how to screen and refer children.
After the training took place, Hashim was one of the first children to be screened by his teachers. "His teacher screened Hashim and was able to detect a problem," said Eden Mashayo, Brien Holden Vision Institute Country Officer for Tanzania. "The teacher referred Hashim to the Bagamoyo Vision Centre where he was diagnosed with cataracts. He was then referred to the Muhimbili National Hospital for the necessary operation."
After the operation was performed successfully Hashim was also given glasses to help him read and write. "I am so happy," said Hashim joyfully. "I was struggling with my studies a lot – I could barely read or see what I was writing. I was doing badly at school. I would like to thank the Brien Holden Vision Institute, Optometry Giving Sight, CooperVision and the Bagamoyo Vision Centre. They supported my operation, and gave me glasses to see much better. They have changed my life."
Throughout 2013, this project will train a further 200 teachers and provide screening for up to 100,000 school children and ensure more children like Hashim gain access to the eye care that they need.
Photo credit: Brien Holden Vision Institute
For more information and to get involved visit www.onebrightvision.com.
- Ends –
MEDIA CONTACT: Fiona Healey or Jessica Walker, Five by Five UK
CONTACT DETAILS: fiona.healey@fivebyfiveuk.com / jessica.walker@fivebyfiveuk.com
+44 (0) 2380 828500