Product specs
The clariti® 1 day toric prescription range has been extended by almost 50% to include around-the-clock axes, benefiting you and your patients; 
More of your patients can access a SiH 1-day toric lens.
2332 prescription† options to cover 87% of the astigmatic population.2

Excellent stability your patients can depend on.3
Stabilises quickly and provides consistent stability through the day, with minimal lens rotation on patients' eyes.3

Highly breathable material4 for your patients.
SiH material to help meet both central (24Dk/t) and peripheral (33Dk/t) oxygen requirements.5

Value for money6 your patients can feel good about.
A mass-market, mid-price point lens6 making SiH 1-days accessible to even more of your patients.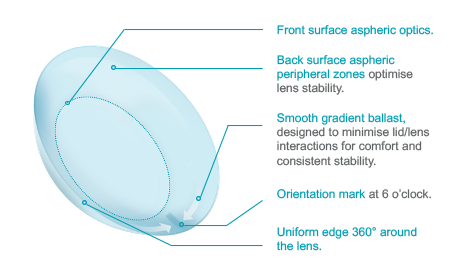 Product Details
Diameter
14.3mm
14.3mm
14.3mm
14.3mm
Sphere power
Plano to -6.00DS (0.25D steps)
-6.50D to -9.00DS (0.50D steps)
+0.25 to +4.00DS
(0.25D steps)
Plano to -6.00DS (0.25D steps)

-6.50 to -9.00DS (0.50D steps)
Cylinder power
-0.75 -1.25 -1.75DC
-0.75 -1.25 -1.75DC
-2.25DC
-2.25DC
Axis
10°,20°,
30°,40°,
50°,60°,
70°,80°,
90°,100°,
110°,120°,
130°,140°,
150°,160°
170°,180°
10°,
20°,70°,
80°,90°,
100°,110°,
160°,170°,
180°
10°,20°,
70°,80°,
90°,100°,
110°,160°
170°,180°
10°,20°,
90°,160°,
170°,180°
*Around-the-clock axes in 10° from Plano to -6.00DS in -0.75DC, 1.25DC, and -1.75DC. † Prescription includes sphere power, cylinder and axis combinations. 1. CVI data on file 2019. Based on number of published power options available across all soft lenses from Alcon, Johnson & Johnson, and Bausch + Lomb, UK and US April 2019. 2. CVI data on file 2020. Rx coverage database; 14 to 70 years. 3. CooperVision data on file 2018. Clinical performance study with clariti® 1 day toric in UK, 1-week, n=39. 4. Brennan, N.A., (2005). Beyond Flux: Total Corneal Oxygen Consumption as an Index of Corneal Oxygenation During Contact Lens Wear. Optom Vis Sci. 5. Morgan, Brennan et al. Central and peripheral oxygen transmissibility thresholds to avoid corneal swelling during open eye soft contact lens wear. J. Applied Biomaterials. 2010;92:361-5. 6. Based on CooperVision's recommended retail price. Retail price is solely at the discretion of the retailer at all times. The above is not meant to influence the price any retailer charges. 7. Palombi J et al. Modern approach to assist toric lens fitting using a web-application. Poster at AOA meeting June 2019.