Product specs
Dedicated discrete zones
With smooth constant-powered progressive zones.
Four-dedicated, discrete zones of stable power.
clariti®1 day multifocal offers smooth power transitions across the optical centre so your patients can experience excellent vision at all distances.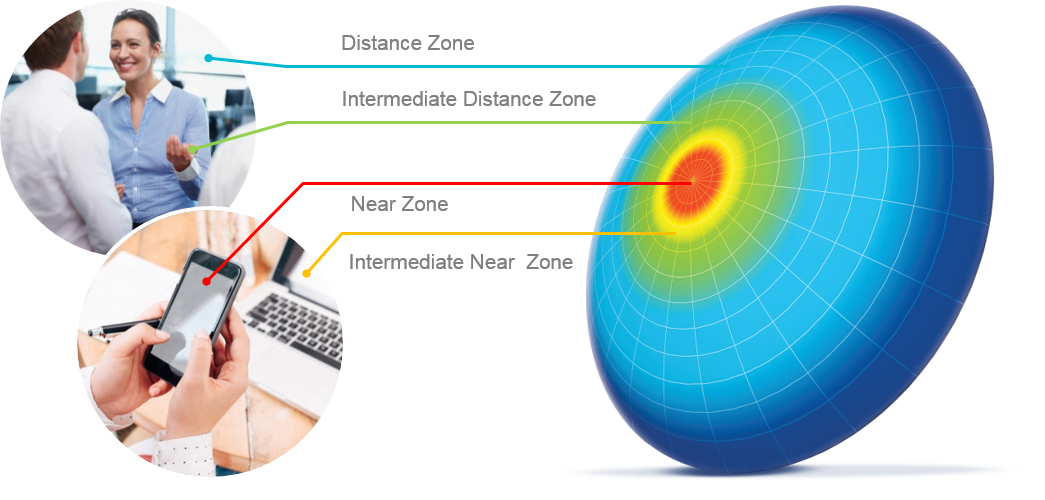 Unique dual Intermediate Vision Zones are designed to meet the lifestyle vision needs of many presbyopes.
Quick and successful fitting
92% of study subjects agreed that clariti® 1 day multifocal met or exceeded their vision needs.¹
96% of wearers can be successfully fit with clariti® 1 day multifocal with the initial trial lens recommended by the OptiExpert™ tool.²
98% of patients indicated that the comfort of the clariti® 1 day multifocal lenses met or exceeded expectation.³
Talk to your patients about the healthy advantages and daily convenience of clariti 1 day multifocal.
OptiExpert™
Multifocal calculator makes the fitting process for presbyopic patients simpler and more efficient – helping you select lenses and save chair time.

1. CooperVision 2018. Based on retrospective analysis of 26 patients (52 eyes) with subjective refractions ranging between +5.00D to -6.00D and ≤ -1.00 D cylinder.
2. Woods J et al. Validation of a multifocal contact lens online fitting app. BCLA poster presentation 2019. Retrospective analysis refraction data with OptiExpert (n=96 eyes) with Rx range +5.00 to -6.00DS, ≤ -1.00DC; ADDs +1.50 to +2.50D.
3. CooperVision data on file 2019. Prospective, bilaterial, subject-masked dispensing study with clariti® 1 day multifocal. N=48 habitual soft MFCL wearers at two sites in North America. At baseline approximately 5 mins after lens insertion.
Product Details
Add power
LOW Add, up to +2.25D, HIGH Add, +2.50D to +3.00D